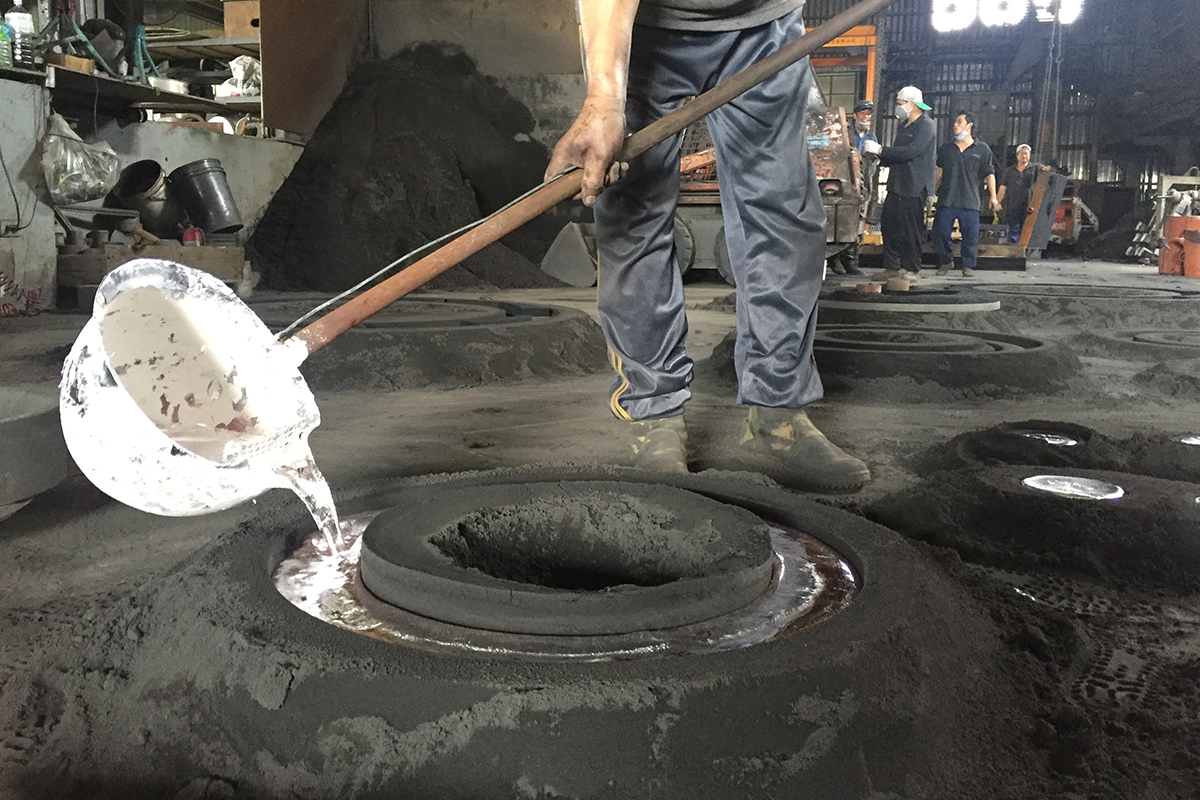 Aluminum Sand Casting Customized
ALUMINUM SAND FOUNDRY AND MACHINING WORKS
With the most advanced and complete facilities in manufacturing Air Ring for blown film extrusion, we work from Air ring Design, Aluminum sand foundry, CNC machining to finishing and assembly, we are the only manufacturer in Taiwan of making air ring 100% at our own house.
---
Except the soft sand casting, the Aluminum foundry also adopted Furan resin hard sand molding. The working object can be reached 3200mm diameter. Therefore, Aluminum casting foundry accepted various OEM works including Air Ring, Machine parts, Marine parts, Agriculture machine parts, Robots parts, Textile machine parts, Auto parts, Hydraulic parts and etc.

Moreover, owing to yearly working experience and excellent know how, Chou Yii is able to accept for CNC machining works of OEM. She developed also Die Head and Industrial parts working capacity in this field.

From giant size object to small size items, we have the alternative facilities available to meet clients need of different demands. Manually operation of sand casting is to work for large pieces such as Robot parts and giant air ring of land film; and Automatic operation sand casting items such as, hydraulic parts, small cases housing and etc. The automatic sand casting operation works rapidly that is suitable for high production volume requirement. In case of small objects working under the automatic operation sand casting, the very fine surface of each object can be done without finishing again.
Features
Customized object from small to giant size
Fine surface treatment, glossy and flatness
Skillful pre-treatment of Aluminum alloy allowing sand casting works more durable and high strength
By Furan resin and soft sand casting tools
Giant size objects such as: agricultural film air ring up to 3200mm o.d.; other object such as robot arm, industrial machine parts and marine parts
Small size objects such as: conduit outlet boxes, cast device box, explosion proof outlet box, conduit fitting, housings...
Overview of CY Aluminum Foundry
Aluminum sand casting Works