Company Sections - Air Ring Division
Air Ring Manufacture
Air rings are started from Aluminum alloy sand casting foundry; then moving to each step of the CNC machining house: hole boring, lathing, grinding and assembly, we take charge of 100% work here in our own factory. Knowing each detail of air ring parts, and the principle of air ring working on blown film extrusion machine, we are able to work out the really good design and the most efficient air ring; while, we frequently communicated with our customers for their application of air ring. Owing to the long time of working experience in this market, we always do better products and better service for our clients.
Good Venturi design air ring.
Low variation gauge film.
Stable and high output film produced.
Easy and fast control of air ring and die head.
Neat and glossy blown film result.
OEM for Aluminum Sand Casting works, Top quality and workmanship you could get here.
General Catalogue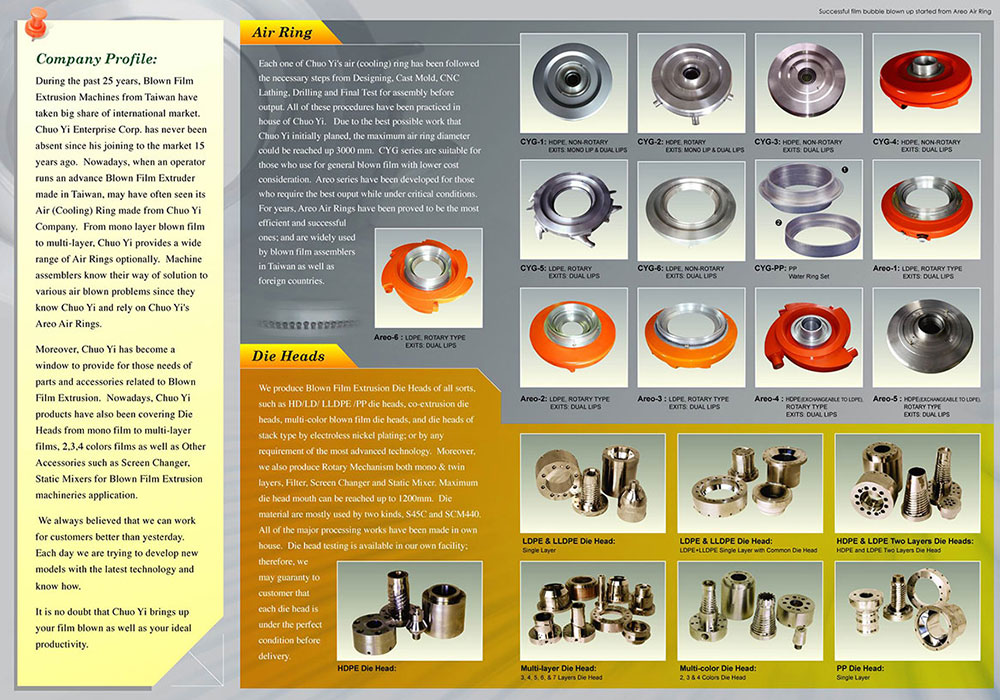 Overview of Air rings and Extruder parts




Best Sale
Air Ring | Die Heads Expert for your Blown Film Extrusion - C.Y.
Chuo Yii Enterprise Co. sells air ring and die head in over 45 countries since 2009.
C.Y.'s Air Rings are designed for up to 7-layer blown film extrusion line. Air ring for thickness and output control film, low gauge variation, fast cooling and bubble stability, as well as adjustable for dual lip exits, adjusted handles or 360 degree circle nut turning.
Top quality alloy steel made Die Heads are available for up to 4 color stripes, 7 layers blown film line along with reliable sourced materials such as HDPE / LDPE / LLDPE / MDPE / PP / PVC / PA / PLA.
C.Y. has been offering customers high quality air rings and die heads in Foundry Industry. Both with advanced technology and 20 years of experience, C.Y. makes sure each customer's demands are met.
---
Hot Products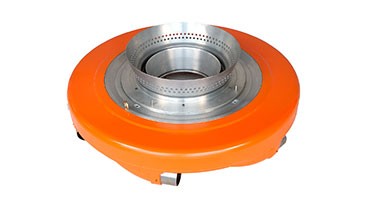 AREO-1 & AREO-5 Air Ring
LDPE / LLDPE / HDPE Low variation thickness and Fast Cooling Air Ring,...
Read More